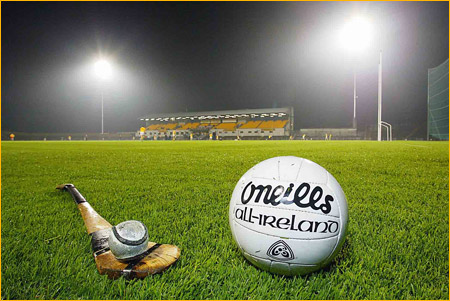 by P.R.O. Mairead O'Sullivan
Mobile: 086 3689061  |  Email: osullivan_mairead@yahoo.com
North Kerry Leagues 2017
Sponsored by McCarthy Insurance Listowel
Division 1A Round 3
St Senans 3.10 v Brosna 1.07  |  Beale1.07 v Tarbert 1.11  |  Ballylongford Rest
Division 1B Round 1
Listowel Emmets 1.13 v Desmond 3.11  |  Finuge 1.10 v Ballydonoghue 0.13
Division 2 Round 3
Duagh 0.15 v Ballyduff 0.06  |  Asdee 0.06 v Moyvane 1.11  |  Knocknagoshel Rest
Fixtures;
Division 1A Round 4 – Sunday 26th February at 1.30pm
Ballylongford v St Senans  |  Tarbert v Brosna  |  Beale Rest
Division 1B Round 2 – Saturday 25th February at 2.45pm
Desmonds v Finuge and at 2pm Ballydonoghue v Listowel Emmets
Division 1A Round 4: Sunday 26th February @ 1.30pm
Duagh v Asdee  |  Moyvane v Knocknagoshel  |  Ballyduff Rest
Congratulations Beale GAA
The GAA National Communication and Media Awards known as the McNamee Awards were announced on Monday last for year 2016 with  Beale GAA picking up the award for best GAA club publication for Sand in our Boots. Sand In Our Boots charts the history of not only Beale GAA but also the GAA organisations which predeceased the foundation of Beale GAA.  A huge achievement for all the hard work it took to put this publication together.  Beale were presented with their award in Croke Park on Friday last by  Uachtaran Chumann Luthchleas Gael, Aogan O Fearghall. Congratulations from all with the North Kerry Football District.
North Kerry School of Excellence
The North Kerry School of Football Excellence Under 15 team 2017 has now been selected. Congratulations to the following players selected on this years team. These are the stars of the future within our district, so lets support them during their outings. Well done to all from the North Kerry Football Board.
1. Shane O Sullivan – Ballyduff        2. J.P. O'Carroll – Ballyduff
3. Dara Slattery – Ballyduff             4. Tadgh McKenna – St Senans
5. Aodhan Shanahan – Finuge         6. Aodhan Behan – St Senans
7. Conor Lane – Brosna                   8. Danny Moriarty – Brosna
9. Micheal Fogarty – Moyvane         10. Mickey Nolan – Ballydonoghue
11. Darragh Lynch – Emmets          12. Barry O'Neill – Beale
13. Kieran Goulding – Ballyduff       14. John Bell – Knocknagoshel
15. Mark Hennessy – Beale             16. Dylan Moriarty – Ballyduff
17. Tadgh Carroll – Ballydonoghue   18. Evan Lane – Brosna
19. Ted Maloney – Duagh
Scor na bPaisti
North Kerry Football Board Finals of Scor na bPaisti will take place on Sunday 26th February at 2pm in the Marian Hall, Moyvane. Please note this year at Scor na bPaisti level that all GAA membership numbers must accompany all competitors names and be emailed to Board Scor officer PJ Mulvihill at pjmulvihill@hotmail.co.uk or contact 086- 7886301 no later than Sunday 19th February.
Glebeigh / Glencar
Congratulations to Glebeigh/Glencar on winning the Junior Club All Ireland on Sunday last in Croke Park beating The Rock of Tyrone.